Clarence & Jude: here is a decoration brand that makes you want to go home, and invite friends for a good dinner in the middle of a beautiful interior!
Clarence & Jude is the story of Anaïs and Vanina, stepsisters and friends who decided one day to put their many talents in common: Courses in international trade for one and a designer course for the other.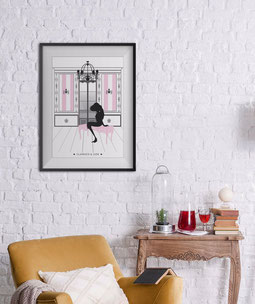 The adventure is crazy because they live at 6000 km from each other: Anaïs lives in Congo and Vanina in Aix-en-Provence ...
It gives a result that is a pleasure to look: simple, elegant, original and tasteful. Their stickers are very nice and we love their illustrations from various inspirations! That will change from what you usually see because be aware that ... it is always limited edition!
Something else that we like : the inspirations of Latin America that we can easily recognize on their underarm with Aztec decorations or on their illustrations : we can recognize the " calaveras " : the colorful skulls typical for the Mexican Day of the Dead .
Apart from decoration, Clarence & Jude bring you the small dose of pep, cheerfulness and elegance that you will need to boost your style with their beautiful bags and underarm, very original and classic at the same time soon available on their e-shop!