"L'atelier pailleté" is as its name suggests handmade jewelry in the workshop of the creative Gladys. Have a look on her website to discover its marvelous jewelry! A little surprise awaits you at the end of our article!
Gladys manufactures all kinds of jewelry  more funny and elegant than each others. Bracelets can be made of wood, with a small cloud or so diamond for the girly side, but also cuffs and collars. We love the bracelets with charms or pompom.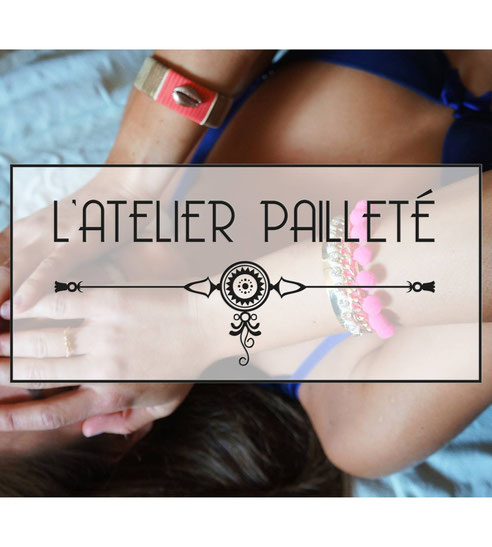 For the most faithful fans of original earrings like Alice, you will be please! The earrings are great and we both have a crush for the model "venise".
What is really cool about "l'atelier pailleté" is that we have the opportunity to order tailor-made creations! Just send a short message via the website form and voila! If you are about to make you a personal gift for Christmas (we all took this pretext at least once right!) Do not hesitate!!
Jewelry is really fancies, and it changes from usual, it's very nice! It allows us to illuminate our outfits easily!
The jewelry is a very affordable and rarely exceed € 25 then go ahead ..... HERE
And now see the interview with Gladys!
Can you introduce yourself and tell us about your journey to create your
brand ?
I had a fairly standard curriculum: graduate in medicine.
From an artistic point of view, my parents soon discovered my creative side and
registered me at an early age to drawing lessons that I did not let go for several years.
This jewelry passion comes from my mom; we can say that I fell into it when I was
small. :)
I have always loved tinkering, I started with pasta necklaces like everyone else, and
when i grew up I came to design and create my own jewelry, and since then I cannot stop me!
Why this pretty name "The workshop Glitter"?
All my jewelry is handmade and I wanted to keep the authenticity of handmade evoked
"WORKSHOP". It is a place that design also reminds the world of crafts,
job well done.
GLITTER is my girly side! I love the glitter and all that glitters! According to my friends, it
perfectly illustrates my princess side, unicorn and rainbow sky. :)
What role does the colors have in the creation of your jewelry?
I am very interested about trends and current fashions. The colors I use for
my designs are no exception.
The colors of my jewelry is also dictated by seasons and often by my mood.
For example, I use a lot of flashy colors in summer, while in winter I prefer the
more sober creations, but of course always with a sequined button.
I would really make my small touches of glitter a manufacturing brand,
If you had to describe your brand in 3 words?
I would say original, handmade and for sure ... GLITTER!
In which country are you dreaming about selling your jewelry?
In England, especially in London. Working with a small shop in Notting Hill, it would be a
dream ! I lived there for some time and I literally fell in love with this city and more
especially in this neighborhood.
What do you think BBR BOX project?
I find the idea of ​​french boxes really interesting.
This allows you to discover the new generation of French designers and promote the Made in
France.
This is a great project you have undertaken and I am waiting to see the first box!