Another new designer for this 12 th day of our advent calendar! Her name is Anaïs Césure and we met her at the show Made in France last month. We had good discussions and we had particularly loved her little creations.
Ô p'tits mÔmes it's a great idea that was born in the head of this young designer graduated from SUPDEMOD in Lyon. This is a brand of decorative accessories for children that can appeals to parents!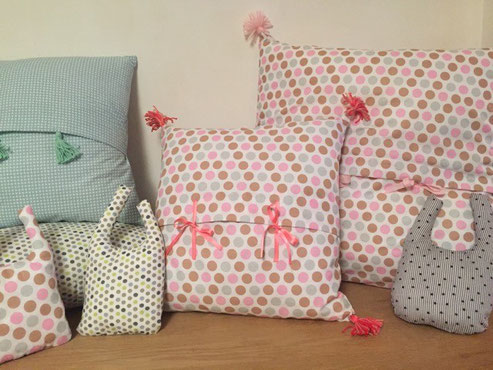 With soft colors and nice patterns you can invent a cozy atmosphere your children. We loved the originality of her products and the imagination she has  to satisfy our desires. We can customize the health record, decorate the children's room with cushions or flags, and even buy  beautiful mobile to delight your baby :) As she says herself her products are "so sweeeeet" We had a crush for a pretty green water cushion and even in the living room it is perfect!
It is a young designer who is at the beginning of her adventure and so we wanted to support her then if you  love her world go for a ride on her website, par iciiiiiiiiii!!!!