"California gurl at heart and Parisian, my world is halfway between Pop and Hip Hop, Girly and Gansta, Cute and Street, the good and the bad taste, surely." That's how Lili, nail artist, defined herself and indeed it is quite right but she forgot to say that she is talented, very talented!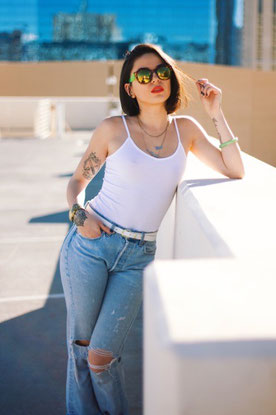 Lili discovered Nail Art in 2010, a revelation for her! Her concept? To make you beautiful through and through! She begins to see all manicure events, then opens the VENICE SALON in 2013 in Paris and at the same time released his first book! It was published in France, Denmark, Russia and China !! Suffice to say that it went fast but when you have that much talent, it seems to us almost normal.
We seriously suggest that you take a ride on her website. Her work is so well done that it is hard to believe! And there's something for everyone! We have to tell you a secret: we often go to her showroom and our friends too!
She made nails for artists or photoshoots by attending some of the largest international brands, and it does not surprise us! She appears in magazines such as Elle, stylist, glamour, Biba, Grazia, Cosmopolitan ... in short all the French girl favorite magazines!
Trust us, discover her talent and if you are coming in Paris GO TO BE PIMPED HERE ! She often goes to USA for the american girls!  You will not know disappointed !!
Discover her creations but also in total exclusivity an interview recorded by Laura with the beautiful french nail artist Julie.
Can you introduce yourself and tell us a little about your background?
My name is Lili, I'm 24, I'm Nail Artist!
I discovered the nail art on Tumblr 5 years ago, I tried and never stopped!
It is a passion that has become addiction, and it has become my full time job!
Where did you find your inspiration?
Everywhere! Everything is about to be inspired! Food, clothing, nature ... Everything!
What are your future projects?
 Full of projects but I prefer not revealing anything yet!
What was your favorite realization?
 Impossible to choose !!! I love so many !!
Because we know that you'll have trouble answering: Paris or Los Angeles?
Aaaargh ... Well even if I appreciate more and more Paris, LA remains my number   
And last tricky question :) What do you think BBR BOX project?
That's awesome !!!!