Micha et Pop is a young french brand pockets-bags. It is, of course, homemade.
Her pockets-bags are incrediblyyyy nice! Fabrics, colors, shape, it's simple we love everything!. Her pockets really light up your outfits and your days. The colors are explosive and make you smile!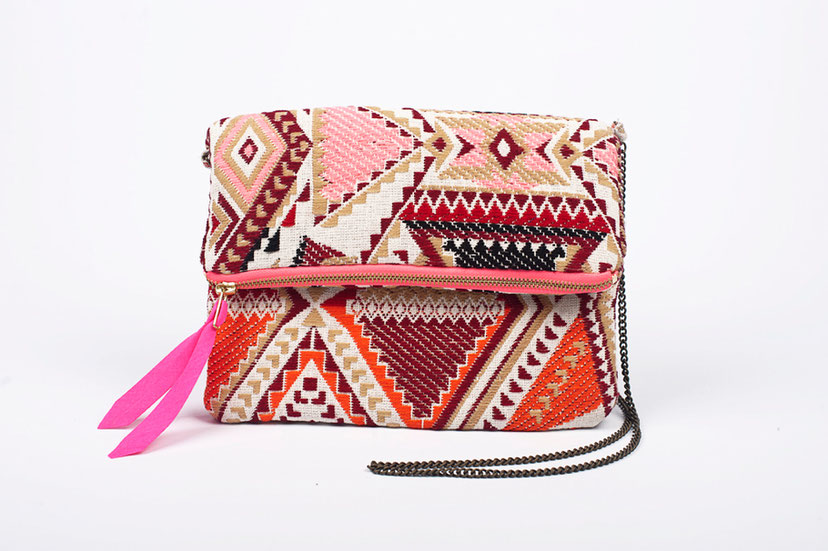 And besides, the pockets-bags are customizable, you can choose your materials !! Margaux is looking for fabrics everywhere in the world, so get ready and go see her creations.
No more to say, we leave you reading the interview we were fortunate to have with Margaux, who really took the time to answer us!
Can you introduce yourself and tell us a little bit about your background?
My name is Margaux, I'm 26, I'm a stylist. After studying at ESMOD in Paris I "made my weapons" at Balmain and Leon and Harper, where I discovered the reality of the textile business. Since then, I started as a self-entrepreneur and today I draw and make collections of ready-to-wear for other brands. The idea of pockets-bag is a bit out of the blue. I was at a Christmas dinner and I had to make a gift to a friend. So I made her a pocket-bag and she loved it! With the general enthusiasm, I had the strength to throw me and I started making my entourage pockets-bags according to their desires and tastes. Then the circle has expanded and today I officially launched the brand keeping the concept of customization.
Why choose this name MICHA AND POP?
It is a tribute to my grandparents, this is how we lovely nicknamed them in my family. They played a very important role in my life and taught me the taste for beautiful things. Micha gave me the love of drawing and tissues, as she had herself a grandmother milliner and Pop gave me a taste of entrepreneurship and resourcefulness. I owe them enormously.
What is the place of craftsmanship in the collections?
I started by building myself my pockets-bag and wanted to keep that artisan spirit and charm of the handmade and the "imperfect". So I went looking for a small workshop in Morocco because the Moroccans have phenomenal expertise in accessories and leather goods. I found a small workshop in the Old Medina of Casablanca, in which only four people work. They make each piece carefully one by one according to the special requests of my clients. I also "hunt" fabrics abroad, for the first collection, the fabrics are mostly from India, where there is a huge textile know-how.
For the first collection, we manufacture in small quantities, about 50 pieces in all. So I can propose new collections faster, with new fabrics and new colors.
My crazy project? Go further and propose fabrics from local crafts worldwide.
What is your proposal for personalization?
Customization is an option that I really wanted to propose. When I was myself making the covers, my clients came to choose the elements of their future pocket in my own home, and they loved having the choice to choose colors that look like them. On the site I kept the idea. So you can choose with or without a chain, then the base fabric, and finally the color of the zipper and the tape.
On the site, I also offer a fixed limited edition collection (1 piece per model for this first collection) with color associations already made for people less inspired!
When is the opening of the website? (We look forward to it!!)
The site opens this week! The date will be specified on our Facebook page.
And last tricky question :) What do you think about BBR BOX project?
When one starts as a creator in a project, it is already often difficult to become known in France. Sometimes not the right contacts, or not the right method. The BBR BOX project not only allows young designers to increase their visibility but also to promote French expertise beyond our borders. It is a great project!