Oscar has always been passionated about food. He can discover new flavor every day! So, he decided to found Le chutney d'Oscar last summer, and that makes us all very happy.
You can taste its original chutneys with tomato, ginger and Espelette pepper or with figs and spices, or onion, lemon and nutmeg nut. And that's just the beginning, today he fully works in the development of new recipes.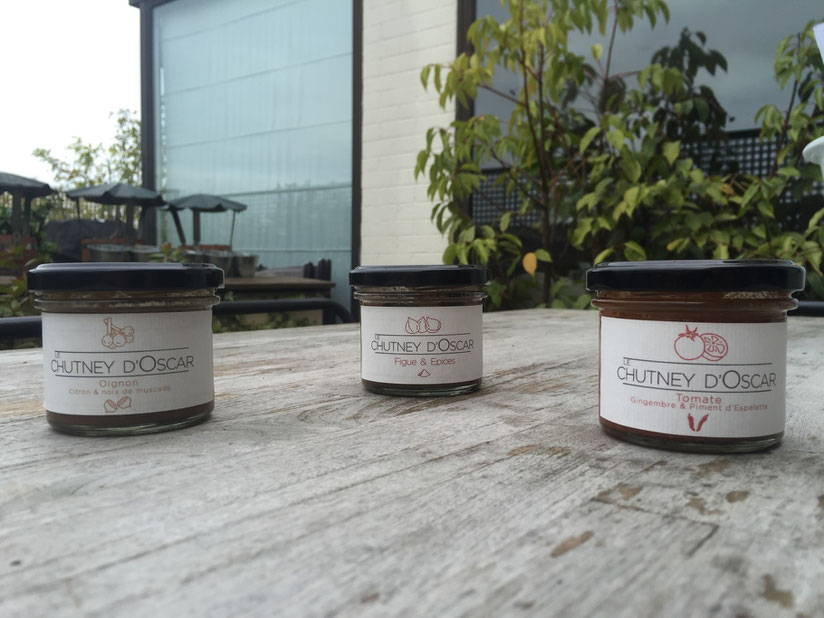 Right now, we have the pleasure to taste his Christmas kit: Duck Foie Gras with Kampot Pepper and chutney Figs and Spices. Sounds pretty appealing right?  
You can find these products in the Super Market  147 Ordener street in Paris if you feel like tasting those delicious products and sharing them with your family for Christmas Eve. You can go on his Facebook page :   Le chutney d'Oscar. Here you will find a great interview of this young cooker  !! 
Can you introduce yourself and tell us a little about your background?
Cooking has always been a passion for me. Cooking for myself, for my friends or my family, I have always dedicated much of my time. To me cooking is a demanding discipline that requires dedication and organization . However, the tedious and painstaking work is far outweighed by the pleasure I take in creating from scratch a dish or a product loved by all . It is this wonderful feeling that drives me to always want to set myself new challenges and always invent more recipes.
How did you have the idea to get into the chutney?
It started in summer, in my holiday home in the South West of France. My neighbor brought us 6kg of figs from his tree fig. Wondering what to do with all these fruits, I decided to get into making a chutney. By making it tasted around me, it was a huge success.
The adventure of le Chutneys  d'Oscar really began that summer when at a dinner, I offered my chutneys to thanks my host. During the meal, a guest who tasted it, immediately asked me to participate in a private sale he organized.
I have sold about 180 pots in less than 4 hours ... the machine was launched. Since then , I've created two new recipes: a tomato chutney with ginger and Espelette pepper and one onion chutney with lemon and nutmeg.
My philosophy is to make travel gustatorily my consumers with products made for both large and small occasions.
What is the importance of home-made in the manufacturing of your products ?
As I said above cooking is a passion  So I prepare myself everything: the choice of ingredients and spices , their cutting, cooking and potting.
What are your future projects?
I am currently working on a new grape chutney recipe, shallots and coriander seed (it is a scoop ! ) . I also work on other products such as an Asian ketchup, soy sauce and ginger and also an Hispanic  ketchup with chili and coriander.
What is the perfect accompaniment for chutney?
A word about my products:
• Fig Chutney: For my fig chutney, I played on the balance of spices, curry notes and Massala, and the sweetness of the fig, while bringing a touch of acidity with vinegar cider and lemon. It can be great with a foie gras or duck and also a Basque sheep cheese.
• Tomato Chutney: For this recipe, I wanted to surprise you by combining the lightness of tomato tart notes of ginger and slightly spicy flavor of Espelette pepper. This chutney will perfectly season a salad dressing, pasta sublimate, or it can be great with any white meat. Personally, I love to consume it on toast with a fresh square.
• Onion Chutney: With my onion chutney, I wanted to play on known flavors of all, onion and lemon, while providing a twist with a greasy smoke notes obtained with the slow cooking of nutmeg. Unlike my other chutneys, this one will be used to cook. My advice, add-in a sauce base or directly in the oven with game or fish.
And last tricky question :) What do you think BBR BOX project?
For me, France is an amazing playground for young designers because of its history, its culture and its soil that the whole world envies us. Each year millions of people come to explore the vast diversity of our products and our cultures.
With Your project BBR Box is the ambassador of this culture and young designers who draw their creativity.