Muryel Tomme is a brand of ceramic with several models. You can combine your flowers with beautiful vases, and eat your snack by the fireplace with her collection of plates, mugs and bowls. Whatever the collection we have a crush for the refinement of these objects that can be use in the daily life.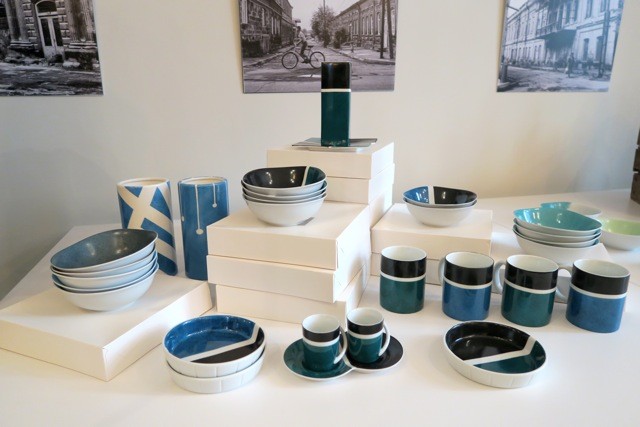 What we particularly like about French designers especially with Muryel Tomme is the ability they have to combine elegance and expertise. These various objects make you stand out and amaze your guests without breaking the bank. So you can decorate your home with original products.
The creations of Muryel make you feel happy. Why !? Go for a ride on her website and you will understand! It is an assortment of bright and harmonious colors. Furthermore Muryel uses her drawing talent to decorate ceramics. You can even find some of her paintings on her e-shop !! Brighten up your table for the holidays with the creations of Muryel Tomme.
To order, it is on www.muryeltomme.com !! 
Can you introduce yourself and tell us a bit more about yourself?
I have started with art history studies at Rome. Quickly I became interested in drawing and painting.
I exhibited my paintings in France and abroad. Then I wanted to bring art into everyday life while trying to create objects for the home that are beautiful, original and unique; away from objects produced industrially. 
I create and work in my studio, located in Nice.
Where does this passion for ceramics come from?
At the beginning it was not a passion but a question: where to find ceramics and porcelain for my home, manufactured in France, in limited editions in a  "urban chic" style and of course at affordable prices. The answer was soon found; I would do it myself!
People liked my designs and I decided to develop my creations.
What is the importance of colors in your creations?
Essential. Before imagine the shape I imagine the color
Where do you get your inspiration?
Everywhere. Everything I see can inspire me: a garden, a photo, a trip, the color of a dish ... ..But I am mainly in admiration for the art of ancient and contemporary Japanese ceramics.
A dream for your creations?
Wider development and maybe one day see the photo of one of my creation in a decorative magazine!
And last tricky question :) What do you think BBR BOX project?
This is an excellent project. Bravo !
I think the made in France creation is the future and especially abroad.