Nhaïla is a young Tahitian who lives in Paris where she studies architecture. In 2012, she embarked on the adventure and created NHAILABEE, which offers a range of jewelry combining semiprecious stones of different regions of the world, and sea treasures. In Tahiti, she began making her first jewelry mainly for her, then for her family and friends. Later, she makes her creations available for everyone and we are absolutely delighted!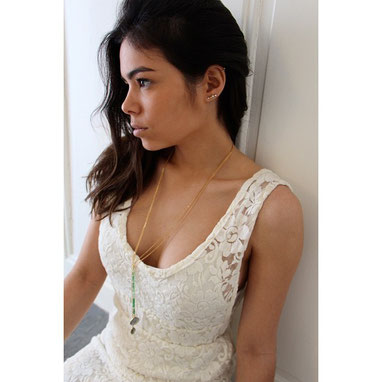 We love her various inspirations and particularly the ones from the islands. Shells, pencil, sea urchin and Tahitian pearls are the central pieces of her creations.
Nhaïla managed to combine her inspirations from the islands with fashion and current Parisian trends: the result is magnificent. "I create jewelry for modern women who love color, offset and authenticity."
Her new collection is called "green addict" and is a must-see stop. It includes mainly pendants with green colors. They are as elegant and refined than sober and joyful!
On her website you will find many other collections: the "boho vibe", the "purple rain", the "Majorelle Blue", the "summer haze", the "sweet autumn" and many more!
We strongly advises you to take a ride on  www.nhaila.com!